CONCERTS of IPAA Teachers & Students
coming events:
Solorecital Julia Achkinazy
Concertgebouw Amsterdam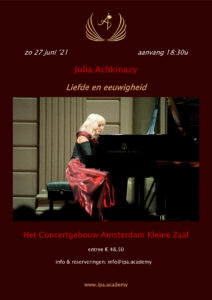 Programme:
J.S. Bach Partita Nr.6 e minor BWV 830
F. Chopin Nocturne D-flat major op. 27 nr.2

F. Chopin Sonata N2 b-flat minor Op.35
F. Liszt Mephisto Waltz N1 S.514
Sunday 27th June, start: 18.30h, entree €48,50

Info and reservations:  info@ipa.academy
DUE TO THE CORONA-MEASURES THERE WILL BE ONLY 80 PLACES AVAILABLE FOR AUDIENCE FOR THIS CONCERT !!
Update 20.06.'21 : there are still
8

 tickets available

************************************************************

 

Su 28th march 2021: IPAA concert

CANCELLED DUE TO THE CORONA-MEASURES

Spring Concert


Solorecital Julia Achkinazy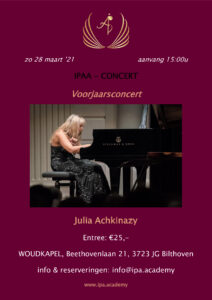 Programm: Bach, Chopin, Liszt
Woudkapel – Beethovenlaan 21 – 3723 JJ Bilthoven
Entrance: € 25,-
Start CONCERT: 15.ooh (reservation obliged – max. 30 persons) still 09 places available
Info and reservations:  info@ipa.academy
********************
Su 21th febr 2021: IPAA concert
Liedrecital
Heleen Koele & Bernhard Touwen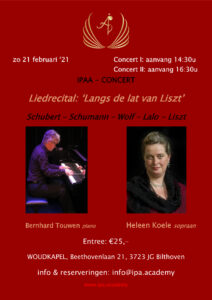 CONCERT IS CANCELLED DUE TO THE LOCKDOWN
Info and reservations:  info@ipa.academy
********************
previous events:
Su 29th nov 2020: IPAA students concert 
Famous Pianoconcertos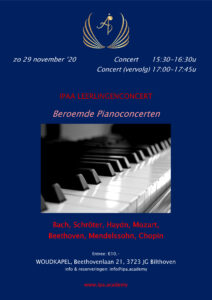 Programm: Bach, Schröter, Haydn, Mozart, Beethoven, Mendelssohn, Chopin
Woudkapel – Beethovenlaan 21 – 3723 JJ Bilthoven
Entrance: €10,-   Start: 15.30h / 17.00h (reservation obliged – max. 30 persons)
Info and reservations:  info@ipa.academy
********************
Su 11th oct 2020: IPAA concert 
Romantic Treasures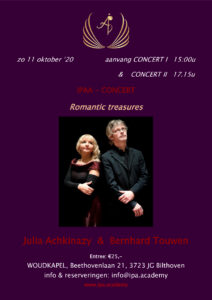 Julia Achkinazy & Bernhard Touwen
Programm: Wagner/Liszt, Tchaikovsky, Szymanowski, Rachmaninoff, Scriabin
Woudkapel – Beethovenlaan 21 – 3723 JJ Bilthoven
Entrance: €25,-
Start CONCERT I: 15.00h (reservation obliged – max. 30 persons)SOLD OUT
Start CONCERT II: 17.15h (reservation obliged – max. 30 persons)
Info and reservations:  info@ipa.academy
********************
20th june 2020: IPAA teacher's concert
Julia Achkinazy & Bernhard Touwen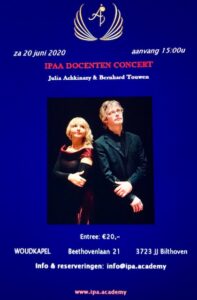 Programm: Bach, Mozart, Beethoven, Chopin, Rachmaninoff
Woudkapel – Beethovenlaan 21 – 3723 JJ Bilthoven
Entrance: € 20,-        (reservation obliged – max. 30 persons)
Info and reservations:  info@ipa.academy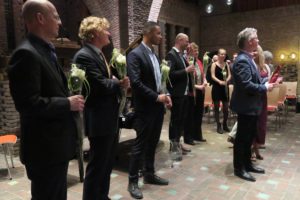 12th january 2020: IPAA Teacher's Workshop: 'the pianist as conductor'
Programm:
10.30h  Welcome / Coffee
10.45h Workshop part I
12.15h Break with Lunch
13.00h Workshop part II & public presentation by active participants
Teacher: Bernhard Touwen
Location: SKVR Fluiterlaan 400 2903HN Capelle
Entrance: active participants to be announced / passive participants € 50,- incl.BTW(contant: incl. coffee/tea & complete lunch)
Info and reservations:  info@ipa.academy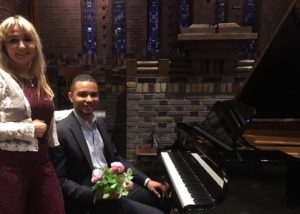 29th march 2020: IPAA Teacher's Workshop: 'Art of Toucher'
POSTPONED DUE TO CORONA
Programm:
10.30h  Welcome / Coffee
10.45h Workshop part I
12.15h Break with Lunch
13.00h Workshop part II & public presentation by active participants
Teacher: Julia Achkinazy
Location: SKVR Fluiterlaan 400 2903HN Capelle
Entrance: active participants to be announced / passive participants € 50,- incl.BTW(contant: incl. coffee/tea & complete lunch)
Info and reservations:  info@ipa.academy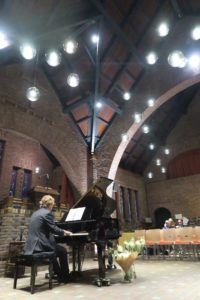 25th may 2019:   IPAA students concert: 'Art of piano solo'
Famous works by Bach, Chopin, Schubert, Franck, Liszt, Tchaikovsky, Rachmaninoff, Kosenko

Programm: 1930h start Concert – 2030 break – 2145 end
Location: De Woudkapel / Beethovenlaan 21 (hoek Sweelincklaan) / 3723 JJ Bilthoven
Entrance: €10,- (contant; incl. coffee/tea in the break)
Info and reservations:  info@ipa.academy
Information about now and future concerts you also can find here:
http://www.julia-achkinazy.com
http://www.bernhardtouwen.nl
7th april 2018:   Lecture by prof. Elvira Van Domburg-Okuneva & public Try-out for concert of 6th may
Russian pianomusic style in the beginning of the 20th century: S. Rachmaninoff and A. Scriabin
Korte biografie van Elvira van Domburg-Okuneva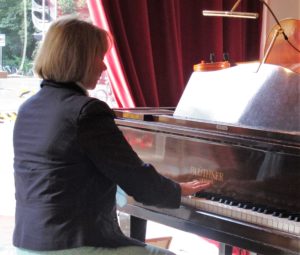 Programm:     1600h start Lecture  – 1700h short performance by IPAA teachers  –  1715h break – 1730h public Try-out
Location: Pianosalon Emile van Leenen,  Lammermarkt 59, 2312 CM Leiden – www.emilevanleenenpianos.nl
Entrance: € 15,- (contant; incl. coffee/tea in the break and free entrance to Try-out)
Info and reservations:  info@ipa.academy
-.-.-.-.-
6th may 2018:   IPAA students concert: Art of piano solo and accompaniment
organ: Rob Nederlof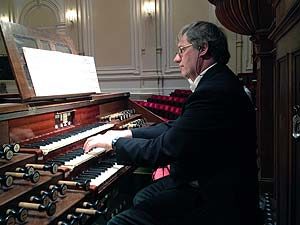 www.brabantorgel.nl/organistRobNederlof.html
Programm: 1430h start piano & organ – 1515h break – 1530 pianosolo – 1630 end
Location: Petrus & Pauluskerk, Vierwindenlaan 11, 5037 MN Tilburg
Entrance: €10,- (contant; incl. coffee/tea in the break)
Info and reservations:  info@ipa.academy
-.-.-.-.-
3rd june 2018:   IPAA teachers concert: Summerconcert Quatre Mains & Solo
Programm: 1430h start concert – 1600h end concert: Meet & Greet in the foyer of the theatre
Location: Luc Lutz zaal, Isalatheater Capelle a/d IJssel, Stadsplein 5, 2903 HH Capelle a/d IJssel
Entrance: €20,- / €12,50 till18yr/SKVR-leerlingen
Successful solo and chamber music Concert of IPAA students:
Geertekerk Utrecht – 01/04/2017 – www.utrecht.remonstranten.nl
Concert of IPAA students in Piano Salon of Emile van Leenen:
23/04/2016 Lammermarkt 59, Leiden – www.emilevanleenenpianos.nl
Concert of Students and Teachers at the opening of IPAA in Den Bosch!
04/10/2015 -St. Janskerkhof 15, Den Bosch